Made In Place Homes has secured planning for a 3 story Passivha EcoHome in the seaside town of Felpham, West Sussex.
The project, which will start in September 2021, will include the demolition of an existing property and the build of a new 450m2 modern seaside dwelling. The property includes 5 bedrooms, 5 bathrooms, 2 reception rooms and 2 extended glass balconies.
The design follows the fabric first approach of Passivhaus, with the aim of achieving an air tightness value below 0.6 air changes/ hr @ n50, using only insulated concrete block, insulation board, a sophisticated insulated external render and triple glazing.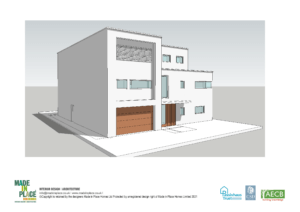 With the building located on a beach front, it not only needed to look fantastic but also stand up to the extremities of seaside weather and the noise of the sea. The finished property will provide a serene environment inside whilst having minimal impact in terms of energy consumption.
The increased insulation, triple glased windows and detailing will ensure the home remains draught free regardless of weather, and require little to no heating or cooling. It means that less energy will be needed to heat the home, reducing energy bills for the owners.
The property will be fitted with a state-of-the-art ventilation system to provide optimum air quality and comfort levels, and will not require solar PV or an air source heat pump due to the low energy demand from the building.
The project is due to be completed in early summer 2022.